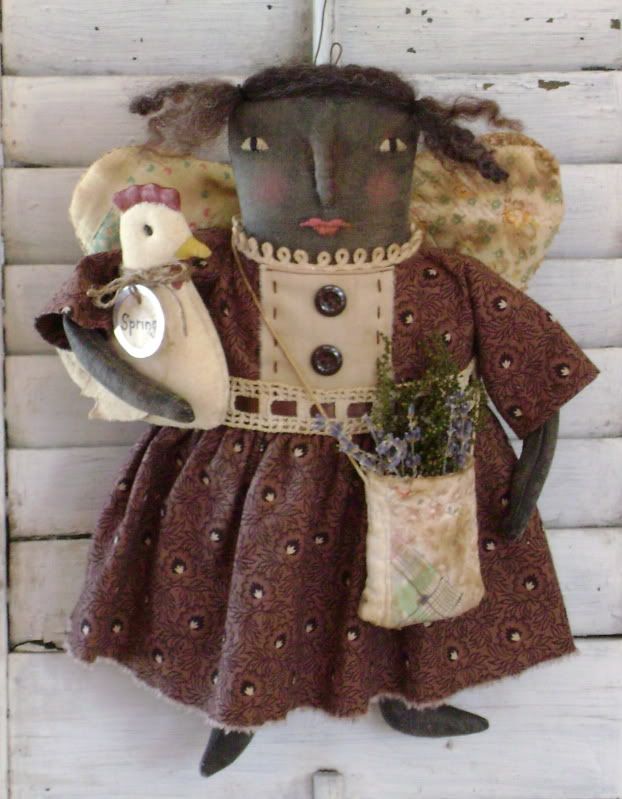 **** click photos to enlarge ****
Specially priced this sweet cupboard hanger / shelf sitter doll would go with any prim decor all year round. She is approximately 12 inches tall and is just the right size to be hung on a prim cupboard or sit on a shelf.
Lots of detail on her coffeedyed dress ! It is made from quilt shop civil war reproduction fabric ~ I love this brown print ! Sewn on the bodice are a couple brown buttons found in my vintage button stash. The tiny loopy trim sewn on the neckline looks so prim and quaint.
Ardella is wearing a coffeedyed muslin slip and pantaloons underneath her dress.
Ardella's wings are reversable for a different look. They are held on with a rusty safety pin.
The chicken, named *Spring*, ( short for spring chicken :o) ), is made from painted and aged muslin, has french knot eyes, and separately stitched on wings.
Lavender is tucked in Ardella's prim vintage cutter quilt sack.
Price $39.99 with $6.00 traveling fare in the continental United States only. Delivery confirmation will be included with the traveling fare. Traveling arrangements will be either parcel or priority according to your zip code.
Ardella has been sold ! Thank you !